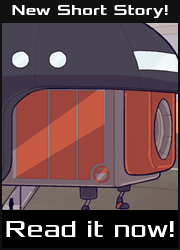 So we get to it here… Dash Kameku: AGENT OF SCIENCE. Glad to get the ball rolling on this one. We also found out what the cube was. But that's not the only big thing ahead.
Also, there is a new short story this week! Give it a read, and since we have two active series, let me know what next installment you want. Slaves to No One, or 48 Hours.
Anyway, I will be streaming Friday and Saturday, so drop in. I'll be doing the PWYW commissions as well.