Doctor, meet Doctor. Will this be a meeting of minds, or an a dork trying to impress someone above his station? We'll find out.
So hey, I want to say sorry this batch took such a long time. My inker and I are both active college students. I myself am 1 year into my 2 year Master's degree program. Right now I am on my summer break, so my hope is to knock out a bunch of page dumps in the meantime. I have my thesis I am working on as well, which is a very involved process, but interesting as well. If you are curious about what I am up to in regards to that you should check out my blog, The Weekly Thesis. I was going to do a podcast as well, but technical issues have delayed recording the second episode. Sigh. Anyway, the thesis will be pretty cool. I am programming an interactive horror story, a follow up to Through a Dark Lens. Neat, huh?
One thing I am able to crank out pretty regularly due to pre-constructed art assets is RGBots, the jam comic. This is basically RGBots 2.0, but it looks great, and we're going to have our first book done next month! How cool is that? Click the graphic below to check it out. If you are a twitter user, feel free to tweet us questions for the Bots to answer.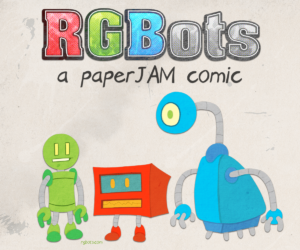 RGBots is a great way for me to make comics, and best of all is that I am not going at it alone. We have two other authors who contribute. See if you can figure out which comics I wrote.
Anyway, let's do some quick updates on a few things while you're here!
The Cosmic Dash Patreon is now the hpkomics Patreon. I decided to include my other work into it as I do way more than Cosmic Dash, though Cosmic Dash is the priority. Additionally, I am switching to a monthly model in July.

The patreon was overhauled with a new tier, new perks, and a new feature. For example, we're doing monthly pinups across all of my projects that are determined by user vote. Additionally, the "community" tab of the patreon serves as a general sketch request queue. Feel free, as a patron, to pitch a sketch idea any time!
You'll get to see the AMAZING work Jamil has done on Orthos so far, as patrons get to see the pages as they finish. That of course also includes upcoming Cosmic Dash pages as well.

Speaking of Orthos, read the first five pages here, and here. This issue should be available in the next couple of months. Patrons get free copies.
More previews are available on my Instagram that features a LOT of great content. Go ahead and give me a follow there. It'll be worth your while.
As always, we have the Cosmic Dash discord chat. Please jump in any time and hang out with us.
Signing Bonus is just about complete. Expect the final installment next week or so. We're going to be rolling out a new format for a lot of the short stories and such. I'll post more details on that later.
You're still here? Well, the next page dump should be much faster, so thanks for reading.