And we are off with Volume 4 Episode 3 – Page 1, the first page of "Ladies' Fight" and some secret agent fun to come. Let's get going with some news and then the usual transcription of the new page. As always, you are welcome to comment on the comic and ask questions. I am available to answer them.
Cosmic Dash Updates
We have a few things to mention in association with the current update. First of all, be sure you caught update #90 over at Serreven.com. No secret agents, but there are parents – Kracker's parents, specifically.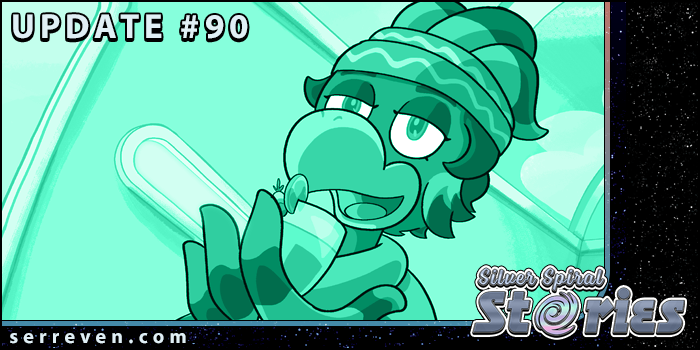 Please let me know what you think of the story. The Kracker-centric "Soar" has a connection to this current Cosmic Dash issue. You'll see in time.
In other news, not only has "The Trench" been updated, but it now has a fancy logo. Click the logo to view the latest installment of the military serial starring Dash's grandfather.
Also, some social media updates: development of some Xenotrackers stories are go. Check out some development art in the following Tweets. Also, do not forget to follow the Cosmic Dash Twitter account.
Would you go on an expedition with Goja to discover new alien animals?#sketch #cosmicdash #alien #furry pic.twitter.com/HLiAQEM7YZ

— Cosmic Dash (@CosmicDashComic) April 18, 2022
Carter "Sledge" Samuels is a merc on the run from a vengeful crimelord who takes a job escorting Goja to different planets for her zoological studies in exchange for protection from a more powerful figure who bankrolls the expedition.#webcomic #sketch #scifi #cosmicdash pic.twitter.com/HWYNRAO2t2

— Cosmic Dash (@CosmicDashComic) April 19, 2022
Expect to see more over the coming weeks.
On Secret Agents
So, it looks like Mara is about to meet a co-worker. Mara first contacted IJ Far in episode one of volume three, where she aided him in taking down a weapons smuggling operation. The Kemezeckian must have liked her because he had her work for him again to bring in Packwell Danten, a Federation mole (pun-intended) in volume three, episode three.
So yes, Mara has been working as a secret agent under Ij Far on behalf of the Federation. he occupies a special position as the Hand of the High Commander, giving him the ability to conduct intelligence operations on behalf of the Federation but under plausible deniability.
Of course, we've also seen that Ij Far also has his hands in some curious developments. Just what has Mara gotten herself into? Is being a secret agent a dangerous game?
Cosmic Dash Volume 4 Episode 3 – Page 1 Transcript
The following is a transcript of Volume 4 Episode 3 – Page 1.
Panel One
Mara sits on her bed in her bun. She is dangling a necklace.
Caption: Mara's Bunk, Lucky Strike II
Panel Two
A closeup of the dangling necklace. It is a rough gear with her name etched on it in Common and Terrekinese.
Etching: "Mara"
Panel Three
Mara is caught off guard by a bright flash.
Mara: "Crap."
SFX: WHRRRRR!
Panel Four
Mara is annoyed as she speaks to the hologram of Ij Far that is standing in the middle of her bunk.
Mara: "Do you have to do that unannounced?"
Ij Far: "Sorry, 'Shellshock,' but I have an update on that time-sensitive matter at your current location."
Panel Five
Mara drapes the necklace around her neck.
Mara: "Well, we certainly have the time."
Panel Six
Mara continues to observe the Ij Far hologram.
Ij Far: "Yes, those pirates really did a number on your ship…  That is exactly why I have a mission for you now. Two agents will be better for this than one."
Panel Seven
Mara is confused by this revelation.
Mara: "Two agents?"
---
Thank you for reading. Please check Serreven.com next week for a comic.
Lastly, don't forget to vote for Cosmic Dash on Top Webcomics!